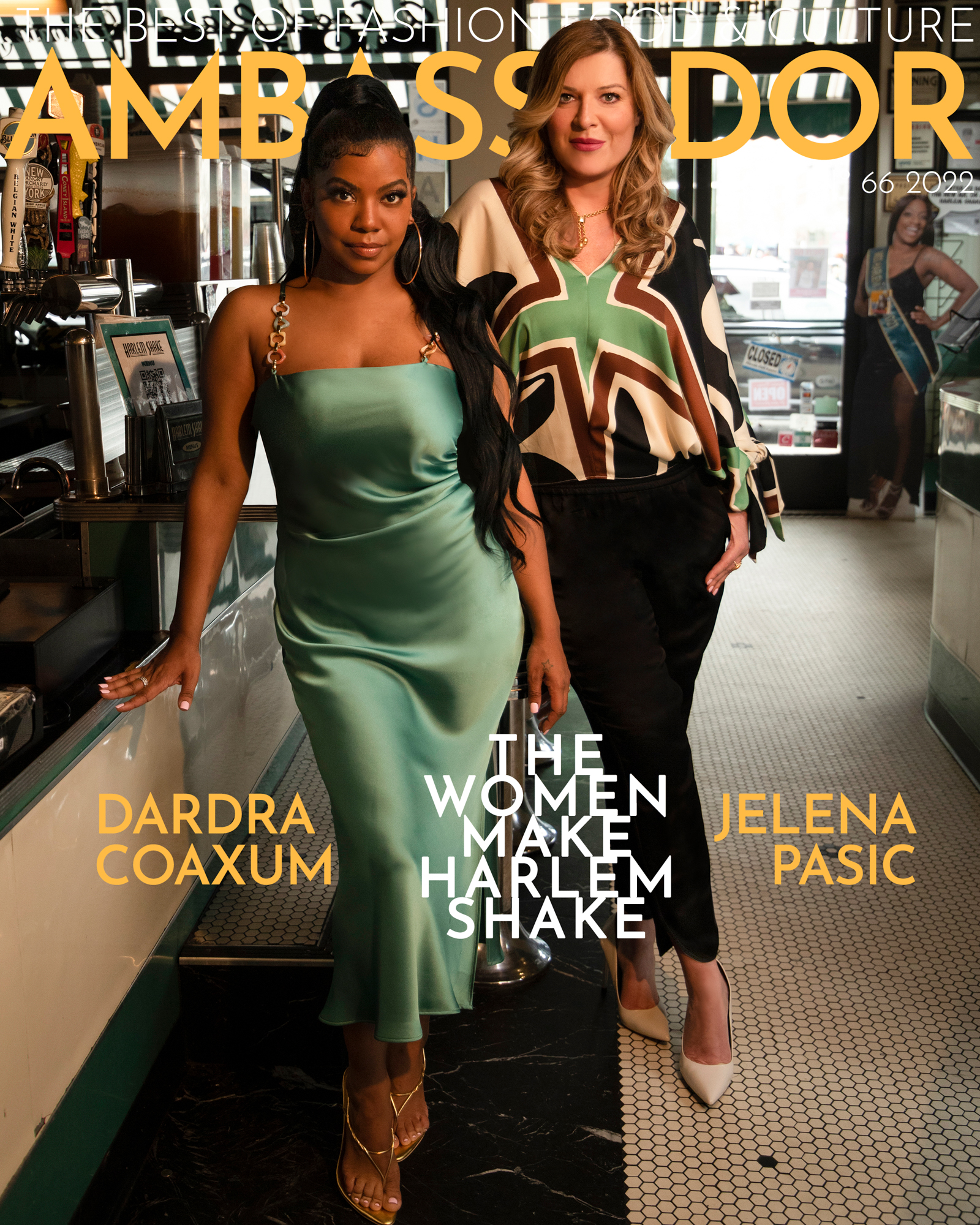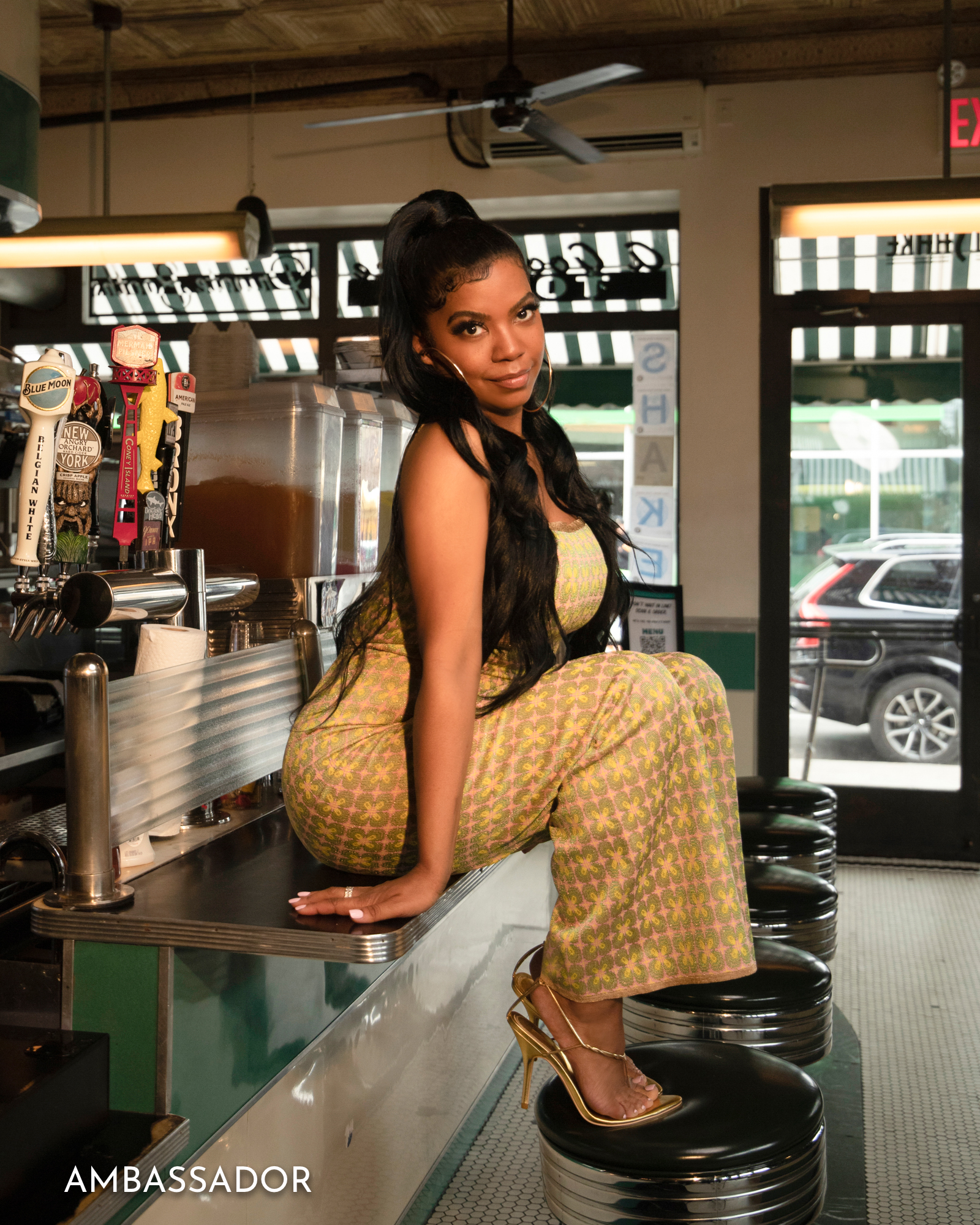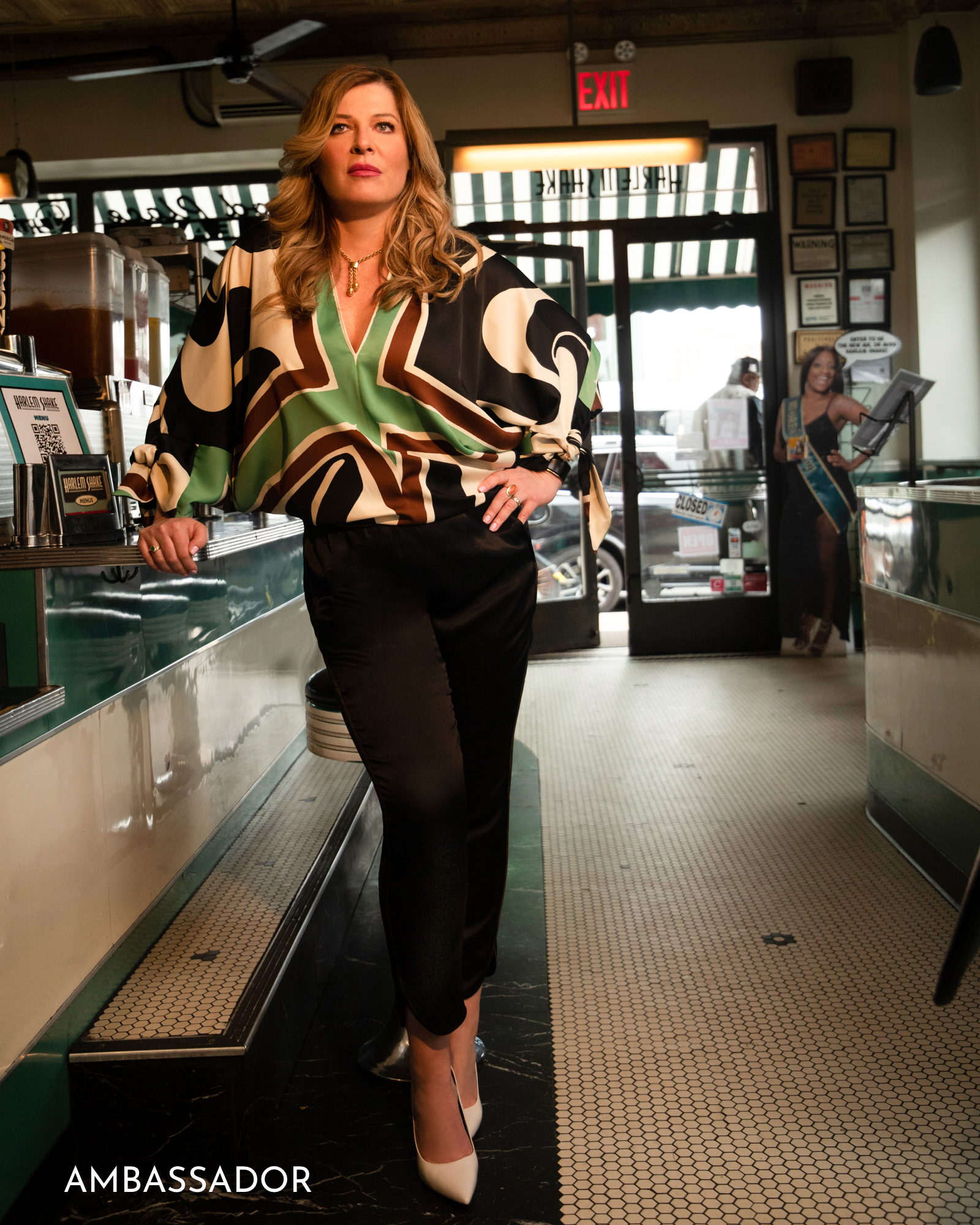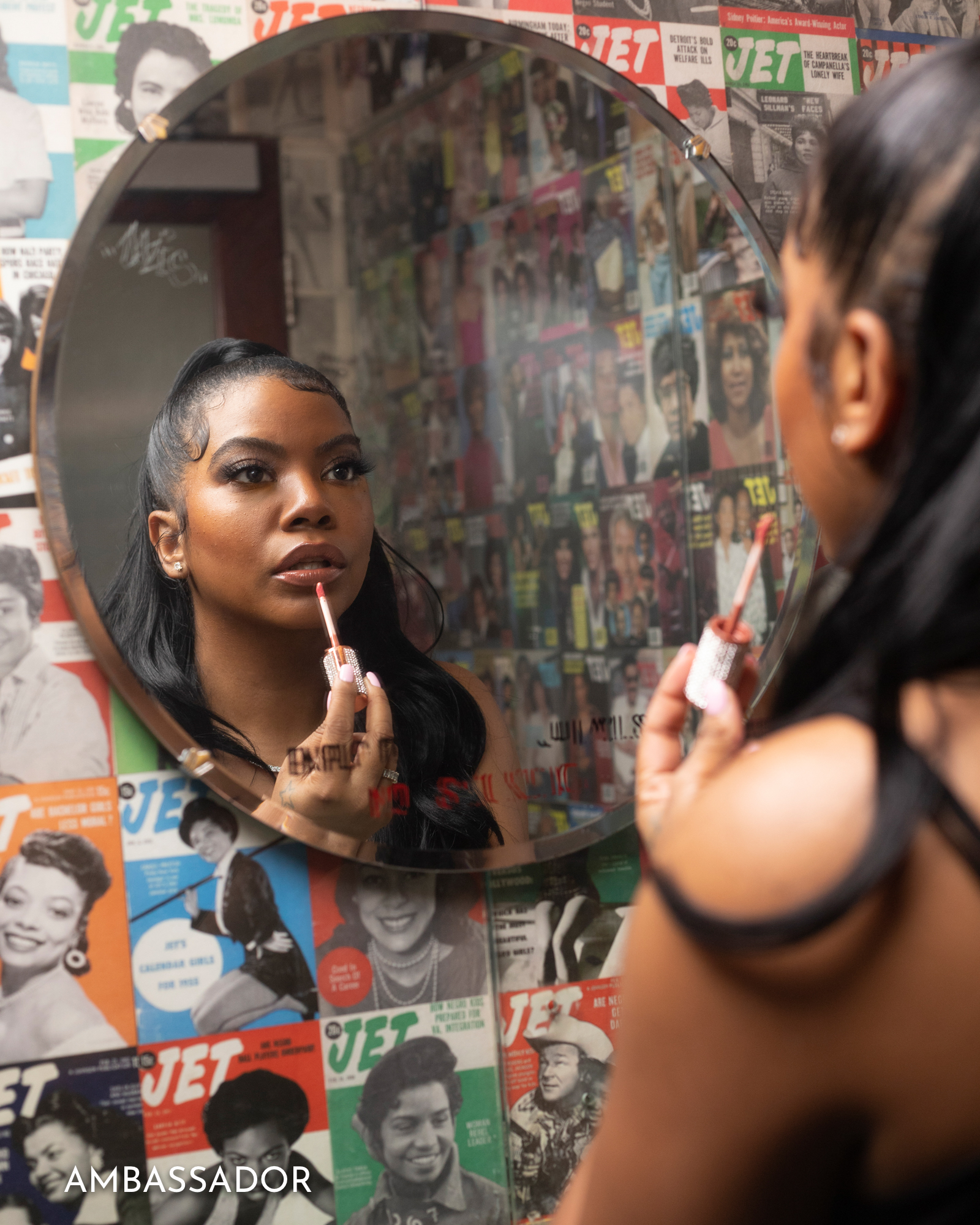 DARDRA COAXUM & JELENA PASIC: THE WOMEN MAKE HARLEM SHAKE
Ambassador Digital Magazine Editor-In-Chief Musa Jackson talks with Jelena Pasic & Dardra Coaxum, two of the women behind the celebrated Harlem Shake. Harlem Shake, the popular burger joint was birthed 9 years ago and is now 2 locations. One location in Harlem, the other in Park Slope, Brooklyn.
Task
Musa talks to these two dynamic women about their very different lives and backgrounds and how a simple idea turned into a modern Harlem institution.
Cool Pull Quote Here x 3 Cool Pull Quote Here x 3 Cool Pull Quote Here x 3
MUSA
What was your childhood like?
JELENA
Growing up in Croatia was nice. I was the only child. I had a comfortable childhood. At the time Croatia was a socialist country not a part of the Eastern Block so we were able to travel everywhere. I grew up on the Italian border, so my town was bilingual and a part of Italy. My grandmother is Italian, so we have a lot of mixed culture and diversity in the area where I'm from. I was exposed to a lot of tourists from all over Europe and I was exposed to many foreign languages. This lasted until was 17 and then the war of independence broke out and Croatia and Slovenia decided to succeed from Yugoslavia this was about ten years after the death of the president who really kept it all together. So the war started in 1990. That idyllic situation came to end as I was coming of age. So when I graduated college I wanted to move to a place where you weren't judged by how you think, your sexual orientation. I had a lot of friends that were gay. I felt terrible at the way were treated. So I decided to move to the USA where I thought everybody would be treated fairly. Little did I know it would not be like that.
MUSA
What made you decide to get into the restaurant industry?
JELENA
From a young age in High school and college I worked in clubs in Croatia. We had a lot of tourists so those were very lucrative jobs. I had weekend jobs as a bartender which is how I got through college. When I moved to the US my then husband and I started a small cafe which was in Washington Heights not far Columbia Presbyterian Hospital and that was really successful. Then we opened a second one in Morgan Stanley Children's Hospital lobby which was an off shoot of the first one which was also successful. Then opened a pasta and grill store a block away and that became so successful that we wanted to expand next door into a full service restaurant. At that time we had four places and everything was going great however our personal life wasn't. We had two children and four restaurants and after five years we separated and sold all that.
MUSA
What made you want to open a restaurant in Harlem?
JELENA
My dream when I moved to the US was to live in New York. I had this idea of diversity, a metropolitan environment, have fun and meeting all different types of people. Washington Heights was great. I learned so much, I learned Spanish and a lot about Dominican culture. I've always loved different cultures. So the next place I started exploring was Harlem. I was taking a spin class on 125th street from my friend Craig Hunter and made a lot of friends. I went to restaurants like Settepani and fell in love with the cultural scene of Harlem in the early 2000s. I saw so many amazing talented people and fabulous styles. Black culture at its best in Harlem. I would also go to Soul Summit in Brooklyn. All of that inspired me. I felt like I really wanted to be a part of it. I felt like I belonged there more than Washington Heights. Even though I explored New York City I found it cold. Harlem was more like a village and l loved that it reminded me of my island back home. It has a strong community feel. Additionally I was inspired by the architecture and Lenox Avenue. St. Nicks Pub on Sunday's and I used to pop into Lenox Lounge. I was blessed to see that rich jazz culture. That gave me the possibility of planting myself into Harlem.
MUSA
So how did Harlem Shake happen?
JELENA
I was going through a divorce right around the time of the financial crisis around 2009 and 2010. I was a young mother with two children and felt alone. All my friends were actually my ex-husbands friends. So I decided to try something and it was the scariest thing I've ever done. I knew then I could do anything. I felt at home. My friend Elliston who was a small investor connected me to this location. Back at that time Red Rooster was doing well and Corner Social had just opened. I knew that this stretch of Lenox was going to do well. We also had Native at the time. So when I saw how well they were doing and Marcus Samuelsson at Red Rooster was a celebrity chef. I had Elliston connect me with the landlord Mr. Edwards. Dard Coaxum introduced me to Dennis Decker who would become our interior designer and immediately started thinking about design. Emil Radonic and then Dardra Coaxum came on board. Then it became about how do we celebrate the Harlem culture. So that the people of Harlem can actually enjoy the space with offerings that made sense financially. It was decided to do burgers. With young kids I didn't want it to have liquor I knew I couldn't handle that. A place for a quick bite, a daytime business that didn't have super late night hours. There was no good burger place at the time. Shake Shack was all the rage at the time. I was like we could something like that except Harlem Shake Shack. Then Elliston was like it should be called Harlem Shake. I was like that sounds great and I trademarked the name immediately. I was like who could do the menu that was going to be attractive and I found out Kenji lived on 131st in Lenox Terrace. Kenji was already famous. He writes for New York Times. He grew up in Harlem and said he would love to. We then started doing milk Shake tastings at Dennis house. This was all coming about as we were building in 2012. Dardra was really young at that time still in college. She grew into her own. And that's how we started. There was this meme one day and Kenji called me and said, "You have 20 thousand likes on Facebook!" And we did even have our storefront yet. There was this meme, "Do the Harlem Shake." That helped us so much with brand recognition before we even opened.
MUSA
Dardra tell us about your life in Harlem?
DARDRA
My life in Harlem changed as Harlem changed. Just like everyone has phases. I think Harlem has had different phases as well. So my lifestyle now is nothing like what it was like as a child. I was born in Harlem. I'm originally from Esplanade Gardens which is on 142nd street between Lenox and Seventh Avenue. It's a little further uptown. I'm now below 125th street and live in a brownstone. Esplanade is a community made up of six buildings where at one time very prominent Black people lived. There were doctors and lawyers. And my mothers father lived there and he left her the apartment. She inherited the apartment but once she lived there and I was born, it all changed. It got a little more dangerous in New York City and in Harlem. So when I was growing up the only thing I was allowed to do was go to school and come home. I was not allowed to play outside. When the street lights came on you had to be in the house. You go to school, come home and that's it. I didn't really get know to much about Harlem until I hung out with my dad, Dard. My dad and my mom had me when they were very young. My dad is an outside guy. He's on this block, that block. When I was with my dad I was really exposed to Harlem. I got to play with the kids on his block over on Manhattan avenue. I wasn't allowed to go to school in Harlem because the schools uptown weren't as good as the schools downtown. When I went to those schools downtown we lied. My mom had to use her work address as our home address because I didn't live in that zone. I wasn't technically supposed to go to those downtown schools. When you look at Harlem now with these nice coffee shops, walking down Lenox can be very pleasant nowadays. That was why it really important for me to become apart of Harlem Shake. I didn't have any desire to get into the restaurant business. But what I did want to get into the business of was contributing to Harlem. Finding another way to make that walk up Lenox more pleasant. Because it wasn't always pleasant.
MUSA
So how did you get into Harlem Shake?
DARDRA
So my dad Dard Coaxum is an entrepreneur or hustler as we call him. He has his hand in any pot that may be lucrative. He told me he was going to be working with Jelena on this new project and he had to go out of town. I was in college and was on spring break visiting at the time. I'm not sure if it was the sidewalk or the wine and beer license but we had a Community board meeting where they had to approve it first. My dad was like we need a representative from Harlem and we need you to go to this meeting. I'm like, "I don't know about a restaurant business, a sidewalk. What are you taking about?" He's like you'll be fine. He literally tells me an hour before the meeting where I meet Jelena for the first time. Me and Jelena knocked it out the park. Jelena and I fed off each others energy really well. I felt from my meeting with her she was someone I could learn alot from. I was in school for advertising and marketing. But I was over school and over being in Ohio. She invited me to be apart of the project. My first thought was no. I didn't tell her this. I was going to do other things. But when I thought about it again and you have an opportunity like that you don't pass it up. You take it and learn from it. You give back to your community with it.
Even though I explored New York City I found it cold. Harlem was more like a village and l loved that it reminded me of my island back home. It has a strong community feel.
MUSA
What's your role within the company?
DARDRA
It's changed over the years. But I'm technically listed as an owner. But since we opened our Brooklyn location in Park Slope. I interior designed that location. After we opened the Harlem location there was a period of time I wasn't here. That's when I went back to Ohio took care of my mother, who unfortunately passed away from cancer. But during that time was also a rediscovery for myself. I tapped back into myself, into my creativity and went into interior design. I went back to school got an internship and made no money. But I worked my way up. When we were opening the new location Jelena was like why don't you work on this project.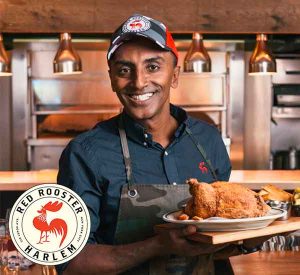 MUSA
So you spearheaded the opening of the Brooklyn location as well as design it. Tell us about that.
DARDRA
So what I did with the design was that we still wanted to carry the same style, charm, design of the Harlem location. Park Slope has a very similar feel as Harlem when it comes to community. Everybody knows each other, they gossip and chit chat on the corner. Harlem is very that so we fit right in there. So I just wanted to make sure people still had that experience when they come. It looks fabulous and it feels really good. We also hired a Brooklyn artist who did our 45 album wall. Our iconic Miss Harlem Shake's Afro is made up of different 45 albums to form an Afro. It's really awesome.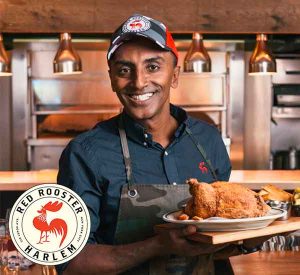 MUSA
How did Miss and Mrs. Harlem Shake come about?
JELENA
I want to give Dennis Decker credit. He came up with the idea based on Miss Subway. Miss Subway was a contest in the '60s and '70s. Miss Subway was a local person from New York City and they would win the title. The whole idea was they didn't have to be a beauty Queen or fashion model. It was based more on personality. So to spin off that idea Miss and Mr. Harlem Shake is really our philanthropic effort. The key to this competition is we want to give back to the community of Harlem. One of the main prerequisites is you have to live in a Harlem zip code. Anyone from 18 to 99. Our oldest contestant was 97. She didn't win but she became Miss Harlem Shake Classic. She passed away two years ago. What we are really looking for is a person with a lot of personality. In some way makes life more colorful or has made some contribution to the community. This is our 10th year. Our first Miss Harlem Shake was Shannon Thornton. Who now portrays Miss Mississippi on the hit series P-Valley. At that time she was just a girl who answered our Craig's list ad. Over the years as contestants and winners have also included gay activists, News journalists, and even hair care entrepreneurs.
MUSA
The word on the street is Harlem Shake is franchising. Can you tell us more about that?
JELENA
I can't tell you any more because of legal reasons other than you're right. Anyone interested can reach out to us by sending an inquiry to our email we will respond.
MUSA
Tell us what Harlem mean to you both?
JELENA
It means fun, it means sunny days on Lenox Avenue and amazing nights.
DARDRA
Harlem is fun. Harlem is love. Harlem is innovative. Harlem is fly. Harlem to me is sitting on my stoop with you drinking spritzers in the summer watching people go by. Saying hello to people. It's about Community and being nice to people.
Talent: JELENA PASIC & DARDRA COAXUM
@jelenapple @dardra
Photographer: Courtney Douglas @courtneydouglasphotography
Creative Director: Musa Jackson
Makeup: @greggbrockington
Hair:@doneupbeauty
Dardra Coaxum personal wardrobe
Jelena Pasic wardrobe @zara
Location: Harlem Shake at 100 west 124th St.
NY TEAM:
Founder & Editor In Chief:
Musa Jackson @iammusajackson
Creative Director: Paul Morejón
@Paulmorejon
FOLLOW US:
www.ambassadordigitalmag.com
IG: @ambassador_mag
YouTube: Ambassador Digital Magazine
Facebook: Ambassador Digital Magazine.
Get the AMBASSADOR Newsletter
and receive Special Offers delivered to your inbox.