ROBERT "DON POOH" CUMMINS: KING OF HOSPITALITY
Ambassador Digital Magazine Editor-In-Chief Musa Jackson talks with restauranteur Robert "Don Pooh" Cummins. Former history making music industry executive and producer. He discovered Foxy Brown, worked with Jay-Z, Sean "Diddy" Combs and Nas. He went on the road with the late Biggie and produced Mary J. Blige mega hits No More Drama and Family Affair while serving as VP of MCA Records.
Task
Switching gears he focused his sights firmly and strategically on the restaurant industry. He became hospitality king with the help of his record setting IHOP franchises alongside his newly opened 25,000 square foot Brooklyn Chophouse Times Square. This uber hot Black owned high end Asian fusion restaurant is taking the great white way by storm. He tells his journey of how the road to success was paved with epic highs and a life changing devastating moment for this visionary that never stops and never settles.
It affected me in a big way. No one in their wildest dreams thought the artist would get killed. It was devastating
DON POOH
I'm from Brooklyn, New York by way of Barbados.
MUSA
Tell us a fun story about going to Howard University.
DON POOH
I guess it was us having some really good parties.
MUSA
That's where you met Sean "Puffy aka Diddy" Combs?
DON POOH
Yes, Puffy and a friend of mine Mark Pitts. They started out as dancers for other music artists. Some artists that were at Howard University that wanted to be in the music business. Diddy started dancing for Heavy D. and for a couple of other videos. I think he danced in a Doug E. Fresh video while he was at Howard. So he was a popular kid on campus. He went onto be an intern at Uptown Records. He used to sneak home on the weekends without his Mom knowing. He would get on the train to go intern at Uptown on the weekends and then come back to school by Monday.
MUSA
ou have worked the biggest artists in Hip Hop, Jay-Z, Puffy, the late Biggie, Nas to name a few. How did you get into the industry and ascend to Executive VP of MCA?
DON POOH
I got into the industry because of my relationship with Diddy and Mark Pitts. Mark was managing Biggie. He allowed me to go on the road with Biggie and learn the game from a management perspective. He was a new manager as well. By that point Diddy really had a lot of experience. He already had interned, done A&R, become V.P. of A&R, then fired from being V.P. of A&R. to owning his own label, Bad Boy. Once he had his own label he was putting a team of producers and people together to work at his label. Biggie asked Mark to manage him and througn that I was able to go under him. I told Mark, I wanted to learn the music business. So Mark took me on the road with Biggie. I started to learn the music business. I discovered Foxy Brown in Moods, my barber shop in Brooklyn on Washington Avenue not too far away from where Biggie lived. I got Foxy's career started and get her a record deal. At this point, I had my own management company, my own artists and got a deal at Def Jam. I had a lot success with Foxy Brown. We had a record with Jay Z, Ain't No.. that blew up. We did a record with Case, Touch Me, Tease Me. So we were featured on all of these records that blew up. Then we put out her first single with Blackstreet called Got to Get You Home Tonight. Jay Z was on the album and he was blowing up simultaneously. Then Foxy decided do a song with Nas, AZ and Omega. They formed a group called The Firm. Through all these associations it built her brand and she became bigger. She became an international brand. After that she wanted to go in a different direction regarding management. It was then I got a call from MCA Records. They were looking for an Executive V.P. to run there Hip Hop, R&B department in the NYC area. Then I got my own label Cartel Records. But we didn't really put out any big artists.
MUSA
As V.P. of MCA you executive produced Mary J. Blige, No More Drama. Which won the multi platinum artist her first Grammy and sold 7 million records. How did you come meet to work with Mary J.Blige?
DON POOH
Becoming Executive VP of MCA, one of the artist that I was assigned to deliver A&R for the company was Mary J. Blige. We knew each other prior and from the beginning it was a natural fit. We hit it off. She made a big record for which I assisted called No More Drama. And the record I brought to her Family Affair produced by Dr.Dre. Which is one of her biggest records to date. That record blew up. Her album sold millions worldwide. We had a lot of success. We stayed connected after my tenure with MCA and have worked together for the last twenty years.
MUSA
Tell us the story behind how you got the moniker Don Pooh?
DON POOH
I was on the road with Biggie when one day he said, "Why you always on the phone? Every time I turn around you on your phone." I've always been enterprising owning my own business. I do different creative businesses and while I'm on the road I'm checking in on all of these opportunities. He said, "You always on the phone. I'm going to call you the phone Don. I'm going to call you Don Pooh." He actually gave me my name. My nickname was always Pooh growing up. That was the name that stuck with me. But then Biggie gave me that name. I kept it and I named my company after it. It was unique and creative. Biggie came up with it so how could I not use it.
MUSA
Tell us about the night Biggie died?
DON POOH
It affected me in a big way. No one in their wildest dreams thought the artist would get killed. It was devastating. But it was a day I'll never forget. The day before he got killed I got ran over by a car. On<br /> March 7,1997 I was rushing to get Foxy Brown her Soul Train tickets. She was staying at the Nikko hotel on LaCienga. I didn't see this car coming across the street when I got hit. My head was bust open, I got pretty mangled by this accident. They took me to Cedar Sinai in Beverly Hills. They refused to work on me because I didn't have insurance. At the time I was working with Chris Lighty, who guaranteed the hospital my operation would be paid for. I was also part of Biggie's team. He was celebrating the soon to be release of his new album. He went to the Soul Train Awards and the after party. I was supposed to be with them but I was in the hospital. The nurses thought my car injury had something to do with the east coast west coast rivalry. So when Biggie got shot they turned all of my phones off so I couldn't get any calls. On the news they talked about Biggie being shot and killed. I didn't have the volume on but what I saw on the screen was; New York Rapper Killed Leaving Party. But there was no photo yet. Then you started seeing videos of Biggie with his name Christopher Wallace. I lost my mind. My leg was in a sling elevated, head wrapped up. I just got out a long operation. I grabbed my phone and threw it. I was yelling. Then on the news I see the Cidar Sinai hospital on screen. So they brought Biggie's body to the same hospital I was in. I'm laid up helpless and my friend was fighting for his life for which he loss. Some of my friends who helped me with my ordeal were back at the hospital for Biggie. That was a tough life changing moment for me and everyone that knew him.
I didn't see this car coming across the street when I got hit. My head was bust open, I got pretty mangled by this accident
MUSA
How did you get into the franchise business acquiring multiple Papa John's & IHOP restaurants?
DON POOH
Geffen Records decided to merge with MCA Records. I had a few years left on my contract. A friend of mine who was already in the franchise business had approached me some years back and told me that I should start looking at franchises as a way to diversify my portfolio. It sounded good but at the time the music business was working really good for me. I'm rubbing shoulders with the who's who of Hip Hop and R&B. When they merged they decided not to renew my contract. So I thought to myself let me get into something else. While I still dabble in the music. That same friend a week after I left the label approached me again about doing a sixteen store deal. He thought we should partner up with Papa John's Pizza. I thought it sounded interesting. I did some homework I studied the brand. To open one of the units didn't seem to expensive at the time with partners. So we decided to open one, take the profits and keep opening one Papa John after the other. We got to eight units. We then sold them. I went into the IHOP business. I was able to start developing IHOPs. It was 2003 that I got into Papa John's Pizza we sold them in 2006. I got into IHOP in 2006. It became one of the highest grossing IHOP in the whole entire chain. I felt that would happen because I knew the Brooklyn market. When first one became successful we took on the entire Brooklyn market. So I did a development deal with the entire Brooklyn market with a total of 4 IHOP restaurants.
MUSA
How did Brooklyn Chophouse come about?
DON POOH
I got a call from the landlord of the building in the Financial District. He had a Dennys restaurant and wanted to replace it with IHOP. So I went to take a look. But I knew that brand might not be as successful in that area. I thought this location would be good for something else. I had a vision of putting a higher end restaurant there. Something like a Caribbean restaurant. So I took the lease because I thought there was a void in the market. All we had was Negril. We were building it. And my director of operations was more familiar with Asian concepts because he had done them before. He thought an Asian concept would work. I was a fan of Mr. Chows and Philippe Chow brands. He said let's create that but let's do an American steak house as well. I knew I wanted to have Brooklyn in the name. We came up with Chophouse combining chopsticks with steakhouse. Which became Brooklyn Chophouse and that's how the name was born. There wasn't alot of Black owned high end restaurants in the city. We got a lot of support from the beginning. We started to use more organic Ingredients which most of our competitors don't use. We also used some the same purveyors that the other high end concepts used from the steak side for the best quality. Social media picked up on us. We got a lot of great press. We did a pop up in the Hamptons in the summers 2018 and 2019. So it just all spiraled into the brand. People enjoy the culinary experience we provide at Brooklyn Chophouse.
MUSA
Tell us about your newest location Brooklyn Chophouse Times Square?
DON POOH
With the success of the first location we had some hiccups. No could predict a pandemic closing the world down. I was heavily invested in the restaurant hospitality business. It hurt when all my IHOPs and Brooklyn Chophouse had to shut down for months. We were only able to do delivery. What we did do for our community was we were able to help our first responders. We were touched by the people on the front lines. We had all this food so we decided to give it all away. We didn't expect anything in return. It was a dark time for us. The New Post did an article on us. When they allowed us to do outside dining. We were able to build these outdoor tents we had tables all over sidewalks. People started coming back outside. People were probably tired of being in the house. We had as much business outside as we had inside. The outpouring of patrons was overwhelming. The landlord saw we were doing incredible business and asked us to come take a look at this building in Times Square. At that time Times Square was desolate. No one was walking in the streets. No tourism, no indoor dining everything was shut down. So it didn't look like good idea. I took a look at it, it was a Buffalo Wild Wings. It was a big location and would be a huge undertaking. But when the world comes back, it would be amazing to have a high end Black owned restaurant in Times Square. I told my partner and we both thought it would be amazing. We worked on it for eight months until we got the lease done in May 2021. We opened in March of 2022. We both knew we wouldn't have gotten the opportunity to do business in Times Square if it wasn't for the shutdown. Since we've opened it's taken off. It's been a great experience and we are excited for the future.
MUSA
You're a successful business man. What business advice would you give someone?
DON POOH
As an entrepreneur there's going to be a lot of doors that will close initially. There's going to be a lot of challenges. People aren't going to understand your vision. Most entrepreneurs are creative. I didn't create this saying, but my mantra is never stop, never settle. Two of my inspirations is Diddy and Jay Z. Can't stop, won't stop. They just keep going. If you quit to early you'll never know what you got. And diversify. I was heavily into music business I didn't think I would go this far in hospitality. And now I'm going into real estate development. I would say learn as you go. Don't be afraid to work for free. Get to someone who really has knowledge of the industry that you want to be in. To understand what it really takes to get there. -Musa Jackson
Talent: ROBERT "DON POOH" CUMMINS
@donpoohmusic
Founder & Editor In Chief:
Musa Jackson @iammusajackson
Photographer: Paul Morejon
Paulmorejon
BTS/ Videographer: Courtney Douglas @courtneydouglasphotography
Creative Director: Musa Jackson
Grooming: Sharon Alexander
Cover Look: @5001flavors
Glasses, watch & Jewelry: Don Pooh personal collection
Denim jacket, jeans & sneakers:
Louis Vuitton @louisvuitton
Location: Brooklyn Chophouse Times Square 253 West 47th St. NYC
FOLLOW US:
www.ambassadordigitalmag.com
IG: @ambassador_mag
YouTube: Ambassador Digital Magazine
Facebook: Ambassador Digital Magazine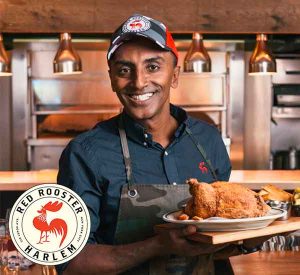 Get the AMBASSADOR Newsletter
and receive Special Offers delivered to your inbox.