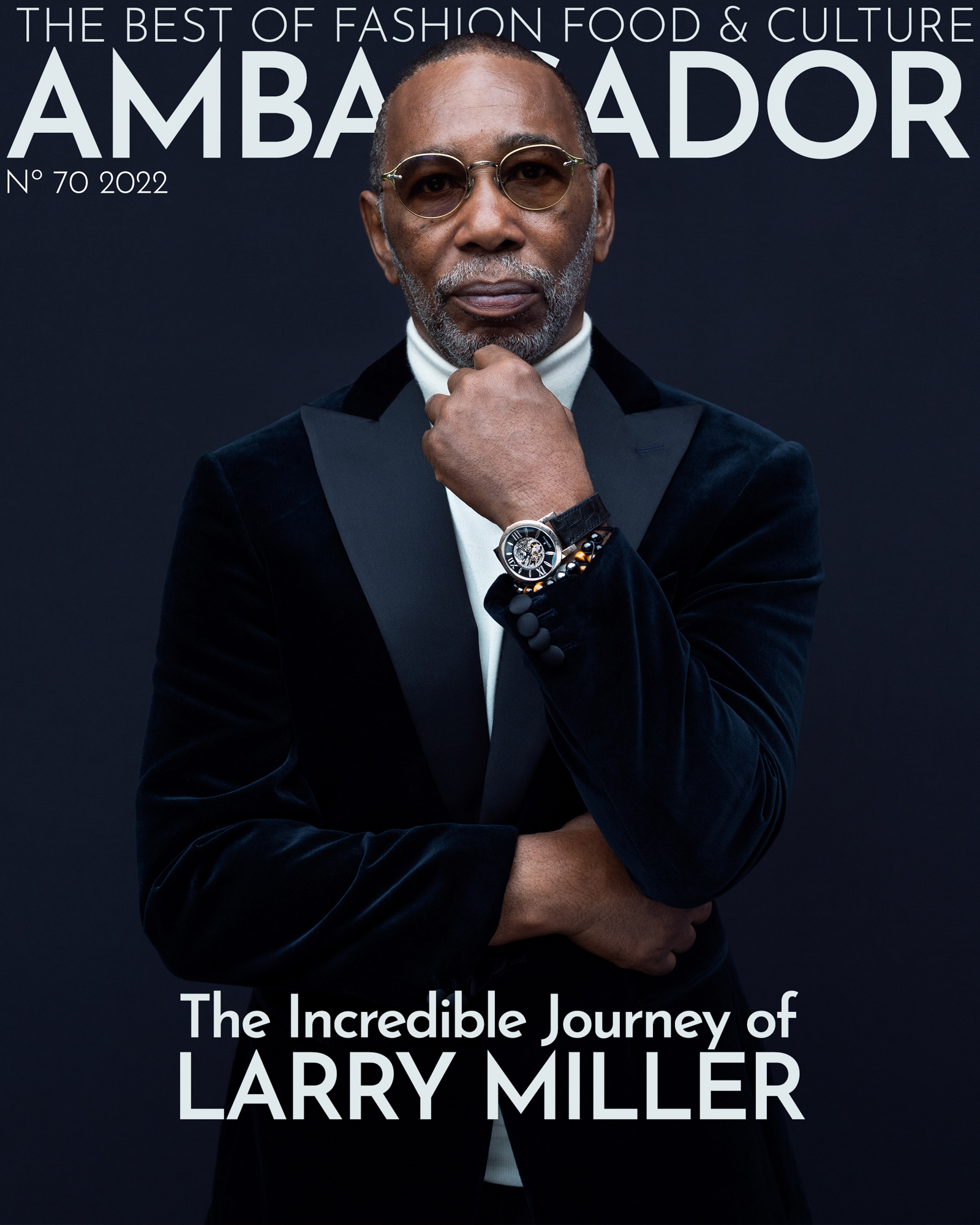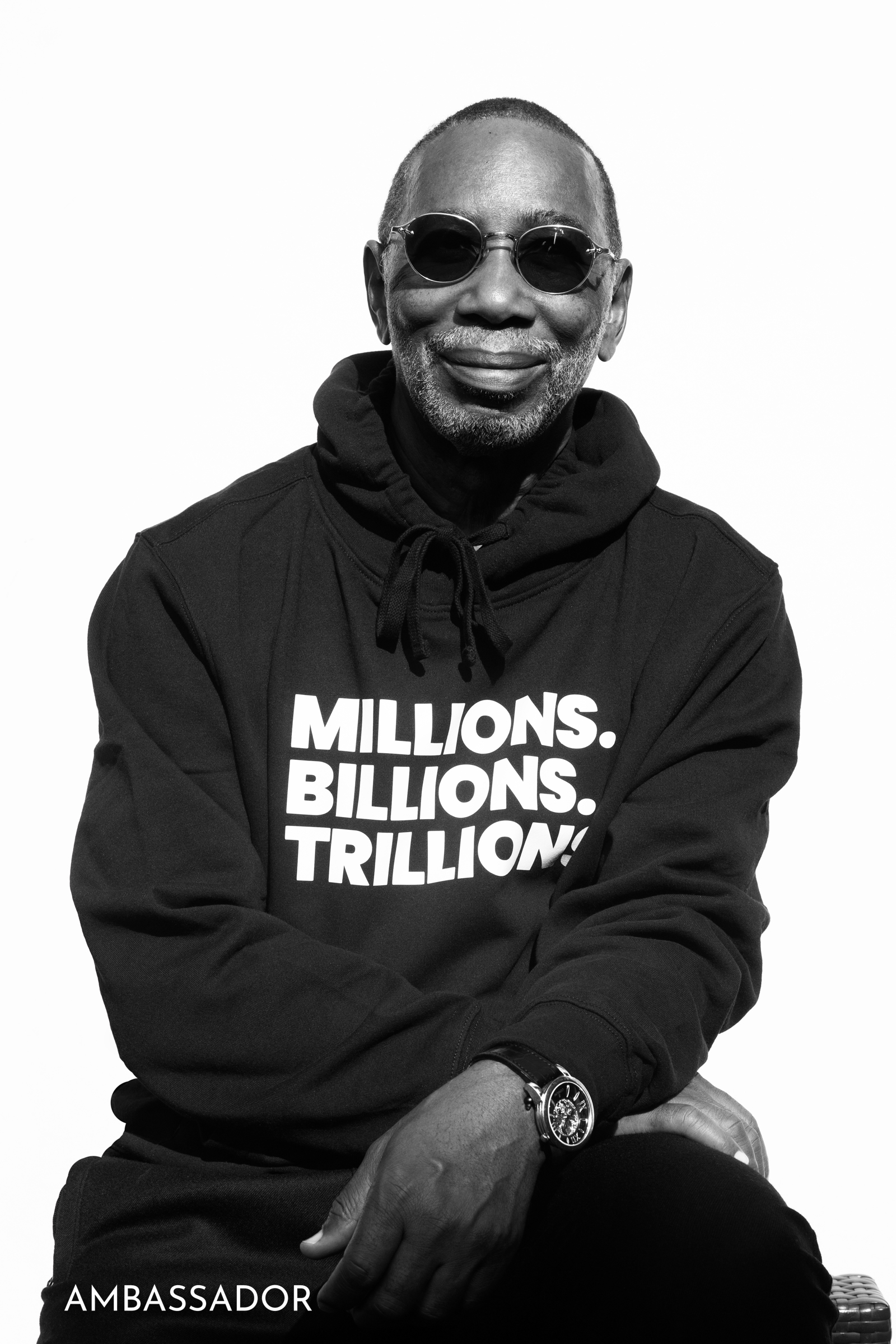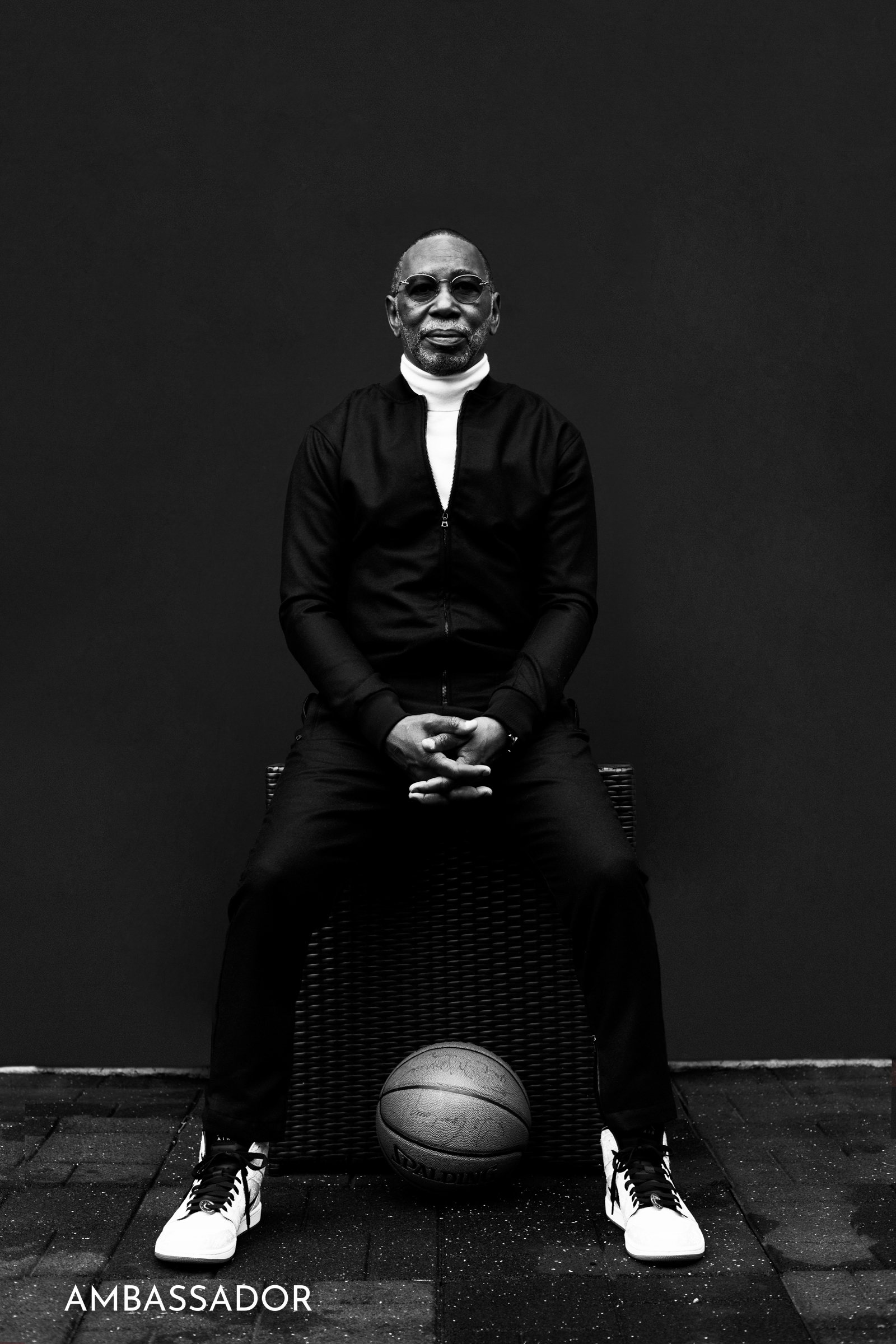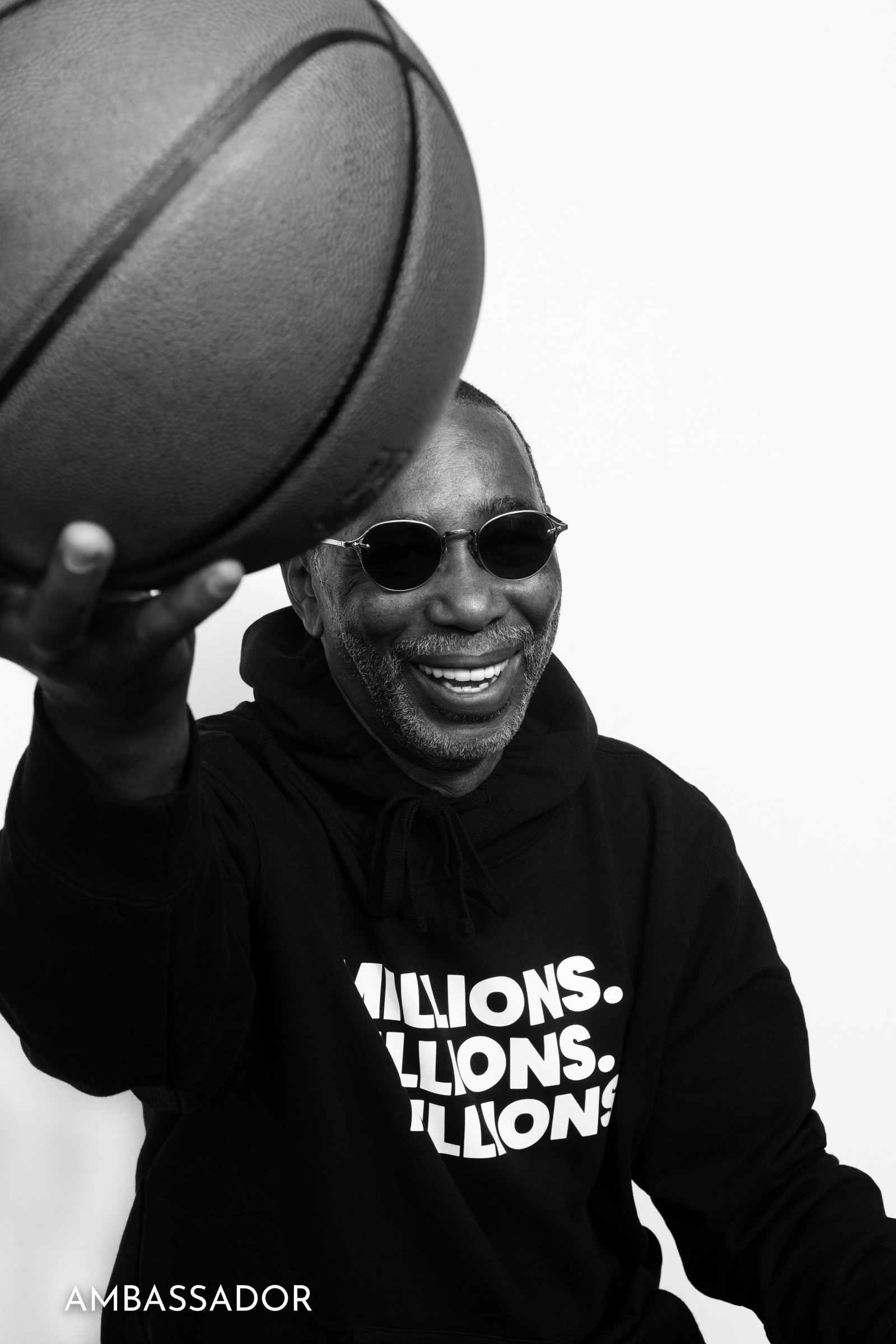 The Incredible Journey of Larry Miller
AMBASSADOR DIGITAL MAGAZINE Editor- In-Chief Musa Jackson has an in-depth conversation with the Chairman of the Jordan brand, Larry Miller. A West Philly native who went from streets gangs, to multiple incarcerations to become one of the most highly regarded leaders in corporate America. 
Task
He was the former President of the Portland Trailblazers and is the current Chairman of Nike Jordan brand. He helped take the company from a 140 million dollar brand to a 5 billion juggernaut. He is also the co-author with his daughter Laila Lacey of his inspirational autobiography JUMP: My Secret Journey From the Streets To the Boardroom. You will be absolutely inspired.
"...the goal was really to create a brand that embodied qualities that Michael Jordan brought to the game. Hard work, dedication, pursuit of excellence."
MUSA
What was life like as young man growing up In West Philly?
LARRY
When I was a kid, all through elementary school I was the smartest kid in the class. The teacher's pet. I was that kid. I come from a strong large family. I am one of eight kids. Four boys, four girls along with my mom and dad. My grandma and uncle lived with us for a while. It was a crazy scenario but there was a lot of love there and support. I was always told that anything I put my mind to I could do it. My uncle used to always say, "That boy there. He gonna be a lawyer." So I always believed that I could do anything I put my mind to. It wasn't until middle school that the allure of the streets took hold of me. Eventually it became more important to me to impress people in the street then to impress my parents. By that point I was fully engulfed in the street life. As a kid my grandma lived with us and I was her favorite. So even though there was a lot going on in the streets at home I felt loved and secure.
"I was the smartest kid in the class. The teacher's pet. I was that kid. I come from a strong large family."
MUSA
How did you get into gangs?
LARRY
So the first time I had any police contact I was twelve. Me and my friend stole a bike. We were in his back yard stripping the bike down. The police came up to the house. So I ran through his house out the front door. The police was there waiting with guns drawn and said to me, "Stop or I'll blow your brains out!" That was the first time I had any interactions with the police. I ended getting probation for that. That introduced me to that world. I met some other people who were in the gang. The same guy who I stole the bike with, I was friends with him and his brother. They were my best friends. So the three of us decided one day we were going to go down and join the gang. We went to the recreation center where everybody used to hang out and told them we were ready to join the gang. The three of us not long after that basically took over the gang. We had major roles within the gang. Once I started getting really into it I went all out. I remember saying to one of them that before the summer was over I'm going to have a rep. That was a big thing having a reputation or rep. So I was just doing all kinds of crazy stuff. I wanted to get my name ringing out in the neighborhood. Before long that was the case.
MUSA
Can you share with us about that fatal day when you were 16?
LARRY
By the time I was 16 I was just completely engulfed in the gang life. I wasn't going to school. I was drinking every day. Hanging out with the crew. One of the members of my crew had gotten killed so I was angry about it. That night, September 30th, 1965 I had been drinking with three other guys. I had a gun and decided we were going to get revenge by killing someone from the rival gang in retaliation for the death of my gang member. Unfortunately we ran into Mr. Edward White. I ended up shooting him and killing him. I later found out he was not a gang member but happened to be in the wrong place at the wrong time. We got arrested later on that night and I was charged as an adult. My family was able to scrape together some money and get me an attorney. He was able to get me a plea deal where I plead guilty to second degree murder. I was sentenced to four and a half to twenty years. I did the four and half at Camp Hill, which was like the juvenile penitentiary in Pennsylvania. It's something that I regret every day of my life. When I think of all the violence that's happening in our communities and to think I contributed to that breaks my heart every day. Because I now realize the value of life. One of the reasons that there is so much violence in our neighborhoods is because there's no value placed on life. That's something we have to focus on and work on. I saw a commercial recently and one of things that stuck with me was, "Every individual is irreplaceable." When you think about that every life is irreplaceable. We have to let the young people know how valuable and important life is.
MUSA
You spent a lot time incarcerated. Tell us about your educational journey while you were incarcerated and beyond?
LARRY
When I was incarcerated at Camp Hill, when I was 16 I started reading. I got into reading to the point where I read everything I could get my hands on. I didn't care what it was. If I wasn't at work or at school I was reading. I read everything from the classics to westerns to the Autobiography of Malcolm X. At the time at Camp Hill books there were rare. The library was terrible. Somebody would get a book and it would circulate the whole prison. I was on that circuit. I ended up getting my G.E.D. while incarcerated. A week or so after I took the exam. A guard showed up at my cell and I asked if I passed. He said I had one of the highest scores he'd ever scene and wanted me to be the valedictorian for the graduating class. I delivered the valedictorian speech from prison. I also got exposed to computer programming which was just getting started at that time. Once I got out I didn't use any of that. I went right back to street life. Back to criminal activity. Ended up getting arrested again for five arm robberies. I was sentenced to four years and nine months. This time I went to a penitentiary called State Correctional Institution in Graterford, Pennsylvania ( now called SCI Phoenix Project) They had a program where you could actually go to work and live in these trailers outside of the jail walls. There was an educational release program where you would take classes inside and then qualify to move into these trailers. You would have to be back there by eight o'clock at night. When I heard about these programs I was like that's how I want to do my time. That's what incentivized me to get into the program. I started taking classes and immediately moved into those trailers. I was going to Montgomery Community College where I got my Associates degree there. I transferred those credits to Temple University and moved into a halfway house in North Philly. Got my Bachelors degree from Temple. That's when I started my work career.
MUSA
Tell us about your work beginnings?
LARRY
I started working for Campbell's Soup Company as an accountant. My undergraduate degree is in accounting. So I worked for them for five years then went to work for Philadelphia Newspapers. From there I went to work for Kraft Foods Group in their dairy division. Then I got recruited to move out to Portland, Oregon to work for Jantzen. I started as the controller in finance. After two years I promoted to President of Jantzen.
MUSA
Tell how you started at Nike?
LARRY
So at Jantzen we were in the process of figuring out how to grow our business. One of the ideas that we came up with was we should get into competition sportswear. We were making swimwear that you wear on the beach or on a cruise ship. Then there is competition swimwear, the Speedo type that the competitors wear. We decided we wanted to get into that business. I thought we need to talk to Nike. They're in Portland and have a brand that's already athletic and authentic. We know how to make swimwear maybe there's an opportunity there. We found out that Nike was actually looking for someone to partner with to do swimwear. So our timing was great. We put a presentation together. Myself and some other folks presented it to Nike. I heard that after our presentation the guy that ran Nike Apparel said to other Nike executives that it didn't get any better than that. So we ended up doing the deal with Nike. This same guy who was head of Nike Apparel, and I would get together every so often to go over what was going on. For us at Jantzen this was a big deal partnering with Nike. For Nike this was one of their first licensing deals that they had ever done. I remember after one of our weekly meetings thinking to myself I had just gotten interviewed. Sure enough a week later he asked if I would have any interest in coming to Nike. I said absolutely. So my first role was V.P. General Manager of Apparel in the U.S.,which was a billion dollar business at the time. I didn't know it but I was the first Vice President of Nike. I did that job for about a year and a half. Michael Jordan ( affectionately called MJ) was about to retire from the Chicago Bulls for the last time. There was a lot of talk about what was going to happen with the business now. Up to that point the formula was we create this cool sneaker, do some marketing with Bugs Bunny or Spike Lee. MJ would play 82 games take the Bulls into the playoffs. Which translated into us selling a lot of sneakers. That was the formula. There was a lot of concern and conversation around whether we were going to be able to continue after MJ's retirement. I was asked to put a team together to come up with strategies on how we were going to evolve it into a brand. I was fortunate to work with some amazing people and we were able to put together some great strategies. We had a great environment that made people want to work at Nike. We were able to have some success. When we started that business it was around 150 million dollars. This year it is over 5 billion dollars. I think we did something right with that.
MUSA
As Chairman of the Jordan Brand was that always your goal? To make it this colossal mega brand?
LARRY
No, the goal was really to create a brand that embodied qualities that Michael Jordan brought to the game. Hard work, dedication, pursuit of excellence. One of the things we wanted to do besides build the business was have a brand be an inspiration to people. Just like MJ inspired people we wanted the brand to have that same effect on people. So that's where we focused. The by product of that was the business continued to grow. It still continues to grow.
MUSA
You were also the President of the Portland Trailblazers. Tell us about that?
LARRY
I was at Nike for ten years then the Portland Trailblazers reached out and said we are looking for a President. I didn't know anything about running an NBA team. I went to a game with a friend of mine who runs a non profit organization here. Who also worked for the Trailblazers at the time. The Trailblazers had just let go of their President. My friend said you should throw your name in the hat. It was suggested that I should at least meet with the guy who is the hiring manager for this position. I said fine. I was supposed to meet with this guy for a drink and it turned into a four hour dinner. By the time the dinner was over we were both interested. They eventually offered me the job. The funny thing about it Musa, I wasn't looking to leave Nike. I wasn't looking to leave the Jordan brand. I had a weekend to make a decision. Had people in both my ears as to why I should stay and leave. I was torn. There was a place in downtown Portland that had a spa with hot springs. You could go there soak in the hot mineral water and then a massage. As I'm soaking I thought about this picture of Jackie Robinson that I had in my office. It was of him on his first day, opening the door to go into the Dodgers locker room. That image popped into my head. I was blessed to have this opportunity I couldn't turn it down. That was the reason. I wanted to show folks, especially my people that someone who looked like me could be in a role like this in Portland Oregon. It's one thing to be in a role like that in say Atlanta, Philly or New York. But in Portland that was a big deal. I took the job and was there for five years. It was an amazing experience. I learned a lot. For five years I was in every NBA owners meeting. I was on the committee that negotiated contracts between owners and players. So it was an incredible experience. David Stern who was Commissioner of the NBA at the time was a great mentor and friend to me. Adam Silver, the current NBA Commissioner and I are still friends. But Nike reached back out to me. The Jordan brand needs you to come back. Would you be interested in doing that? So I ended up going back.
I think our secret sauce as to why the Jordan brand has been successful and all we've been able to accomplish is because of MJ's involvement. He pushed us to be excellent just like he pushed his team on the basketball court.
MUSA
You were one of the few Black persons in such a key leadership position governing a mostly Black team. What were you able to achieve during that time?
LARRY
We sold out the arena every time I was there. We made the playoffs three out of the five years I was there. We had the number one pick in the draft. It was between Greg Oden who came out of Ohio State and Kevin Durant. We had the first pick, Seattle had the second pick. We chose Oden because he was the right fit for our team at the time. He ended having injury issues so he never materialized into the player he could have been. I believe If Greg Oden were healthy we could of had a lot more success. Another thing that I feel we did while I was there was I heightened our involvement in the community. Getting the team more involved in the community, by participating and giving back. The team has always been a part of the community we just dialed it up a little bit more. It was a great opportunity for me while I was there but it was also time for me to come back to the Jordan brand.
MUSA
You and basketball icon Michael Jordan have become great friends. What is something most people might not know about the superstar?
LARRY
Most people don't understand how involved he has been with the brand. I think our secret sauce as to why the Jordan brand has been successful and all we've been able to accomplish is because of MJ's involvement. He pushed us to be excellent just like he pushed his team on the basketball court. I tell people this all the time he understands this better than half the people that work here. Because he's been around it so long. He's a smart guy. The brand would not be what it is today without the involvement that he had. Making sure we stayed on track. Striving to be the best we could be. He made sure we represented him in the way he wanted us too. He has always been so open to the team. Our designers could call him anytime and share with him their latest work or the direction they were going in. The team would go to his house sit down and talk product over dinner. He really looks at the folks in this brand as part of his team. That has made a major difference in us being successful.
MUSA
You revealed a lot of painful secrets from your past that could have remained hidden. Why did you decide to write your autobiography JUMP: My Secret Journey from the Streets to the Boardroom?
LARRY
My oldest daughter Laila started working on me years ago. She was always telling me I really needed to tell my story. She felt that it could be motivational and inspire some people. I was like no. I've been trying to hide this forever. I preferred to be behind the scenes instead being out front. Part of the reason for that was because I was always nervous that my secret would come out. But over the years she wore me down ( laughs) She convinced me this was a story I should share that it would help and inspire a lot of people. So she and I started working on it together about twelve years ago. It was because of me that it took as long as it did. Number one my schedule. Number two I was in no hurry to do this. I was reluctant to take it as far as I did. Timing wise this was the right time. My career is at a point now where I'm semi retired. Nike has been incredibly supportive throughout this whole process with the book. It was really Laila pushing me to share my story. I began to believe maybe this is the right time to share my story. Maybe there is a sixteen year old Larry Miller out there about to do something crazy. Maybe this makes them hesitate for a minute. Maybe there's somebody currently incarcerated who by hearing my story gets motivated to improve themselves while they are incarcerated. Or maybe somebody who recently got out of prison believes they can improve their life by putting in the work and effort. Maybe there are some people out there who have never been involved with the criminal justice system. But they're in positions to hire or give someone an opportunity. Maybe by knowing my story they would be willing to give someone a second chance. If Larry was able to turn his life around maybe this person could too given the right opportunity. That was really the motivating factor. Because I didn't have to do this. A friend of mine was like, "You were planning to take this story to the grave." I was. It also lifted a burden off of me. For years I had nightmares about going back to jail. I had migraines because I was anxious and nervous my background would come up and somehow it would affect what I was trying to develop. Now that the story is out the nightmares and migraines are gone. I feel much more relieved. It was a burden lifted off of me. What came out of this I was able to meet Mr. White's family. Tell them how sorry and remorseful I was for what I did. To get them to forgive me. Which they did. To me that's the most important thing that has come out of this whole process.
MUSA
You are one of corporate America's most influential leaders of any race. What do you want your legacy to be?
LARRY
For me I'm proud of what we've built as the Jordan brand but I'm more proud of the lives that we've changed. The people who we've had a positive impact on. I would want my legacy to be about helping people. Giving back. I know I can't make up for what I did there is no undoing it. But at least I can try to make a positive impact on the world. Especially on Black folks in our community who are struggling. The ones who bear the brunt of a lot the things I've dealt with over the years. I hope I leave a legacy that inspires and motives people to be the best they can be. No matter what you've gone through or going through to believe that you can change that. You can improve your life. You can move forward. My daughter and I went into a juvenile prison a while back and we talked to students that were inmates. I remember sitting there in the chair and looking at these young people and seeing myself. Sitting in those same chair with the same kind of attitude. The same mentality that they have. I told them that when I was there. I told them when I see you guys I see myself sitting there. But my hope is that they can see themselves in me. That they can look back at me. If he was here where we are and he was able to do all of that. Maybe I have some hope. When we left there the principal of the High school inside the jail sent me an email. He said one thing you provided for these young people is hope. To me I want to continue to provide hope. If their situation is negative right now doesn't mean that's where they have to end up. I hope my legacy is one of redemption, to move forward in life to become a positive contributing member of society versus someone who takes from society.
Talent: LARRY MILLER @jumpthebook
Photographer: @courtneydouglasphotography
Creative Director: @iammusajackson
BTS / video @courtneydouglasphotography
Look:  007 Collection Velvet Jacket : @npealcashmere & turtleneck @npealcashmere 
Look: Suit: @5001flavors Sneaker: @nike
Look:Track suit @5001flavors Turtleneck @npealcashmere watch: @corumwatches glasses: 
Look: Sweatshirt @travismalloy 
Special thanks to @yvonne_cmg 
NY TEAM: 
Founder & Editor In Chief: 
Musa Jackson @iammusajackson
Creative Director: Paul Morejon
@Paulmorejon
FOLLOW US:
www.ambassadordigitalmag.com
IG: @ambassador_mag 
YouTube: Ambassador Digital Magazine 
Facebook: Ambassador Digital Magazine.
LIVE YOUR LIFE WITH PASSION
Get the AMBASSADOR Newsletter
and receive Special Offers delivered to your inbox.