Leigh Davenport: Run The World
AMBASSADOR DIGITAL MAGAZINE Editor- In-Chief Musa Jackson has a Q. & A. with LEIGH DAVENPORT. TV executive producer, series creator of the upcoming Harlem featured tv series Starz RUN THE WORLD.
MUSA
Where are you from? What was your childhood like?
LEIGH
I am from Chicago, Illinois. Both of my parents and their families are from Chicago. I'm a Chicago girl through and through. My childhood was fun. I have two very smart accomplished parents. They raised three very different creative children. I have two brothers, we're very close. I grew up playing with my cousins all the time. Very close knit family. I loved growing up in Chicago. It is such a Black city. Full of cultural institutions. I got to go to a Black ballet school. Went to the same High School as Michelle Obama. Just did a lot of awesome things that were very normal in Chicago. Was always surrounded by amazing Black folks and culture.
MUSA
Who was an influence?
LEIGH
I struggle with this question because my parents were big on us not being into celebrities. I was not allowed to be into like New Kids On The Block fandom. I think it was about being grounded. The first celebrity that lifted and impacted my life was Lauryn Hill. Her Miseducation of Lauryn Hill album came out when I was 15. I remember I was a sophomore in H.S. we left school took the bus downtown to stand in line at Tower Records to buy the album. What that album taught me is that I could have a voice. That I was a poet. My brothers were really into Hip Hop. I only have brothers so I hung out with the boys. So I was breakdancing and freestyling. When Lauryn came out she was like you can do this too and still be yourself, a girl. Lauryn was tough and cool but also had on the little skirt, platform shoes, wore lipstick and was still pretty and feminine. I think of her when I became a writer, and was a poet doing spoken word. Lauryn opened up the gates for me to feel like I could be the version of me I thought I was on the inside.
MUSA
Tell us about that first professional gig?
LEIGH
I was a production assistant at VH1 in their news and red carpet divisions. It was a really small department, there was only five of us. My first boss was a hippie Jewish dude Warren Cohen who had come from magazines. And I had gone to New York thinking I was going to work in magazines. When I got out of college magazines were dying. Warren understood my struggle thought I was smart and hired me into this position. But the really cool thing about that job was that Janell Snowden was my boss. She was only 7 years older than me and gorgeous. So smart and knew what she was doing and took me under her wing like a little sister. She taught me so much and was so loving and nurturing. We still have a close relationship to this day. I'm so grateful to her. There was another woman in the department that was not kind, not welcoming towards me. And to be a young Black girl and come right out of college and have someone like Janell there to mentor and shape me. Give me that off the book advice. Like don't date in the industry, watch what your wearing. Those things. It was a really great experience for me.
MUSA
You worked on the TV series Boomerang? What was that like?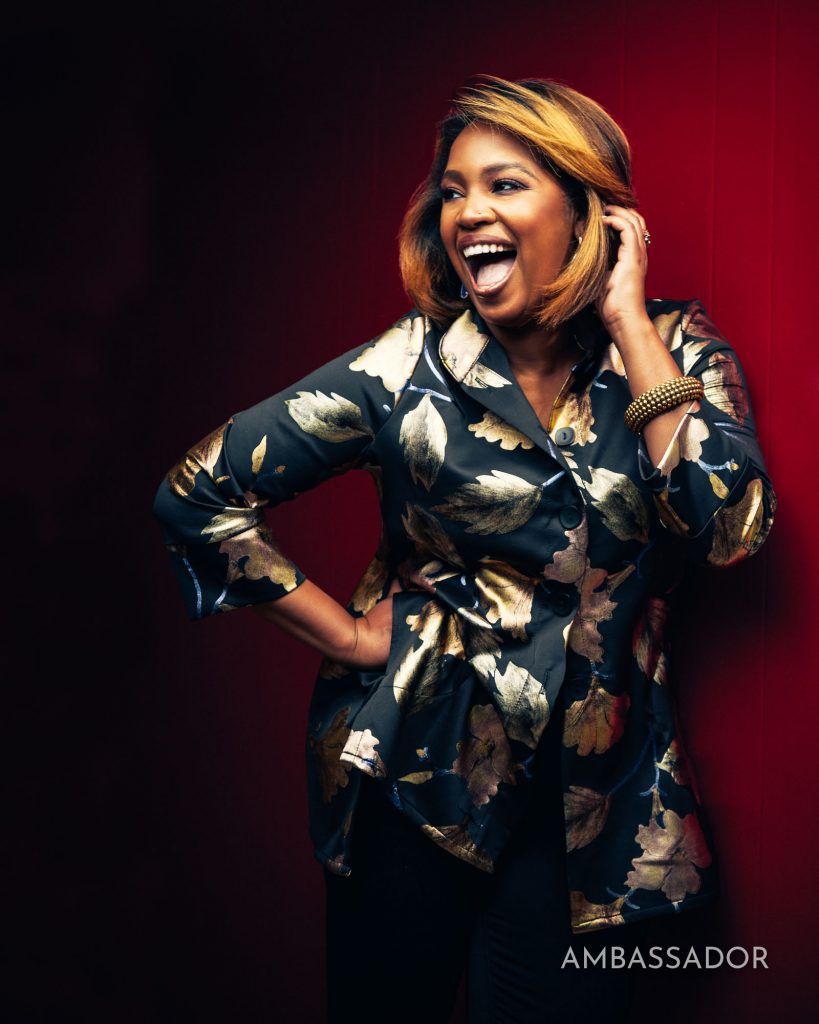 LEIGH
Boomerang was my first staff tv job. It was cool. That whole room was all first time staff writers. So there wasn't any of the hierarchy, political stuff that sometimes happens in rooms that you hear about. We were all pretty much on the same level. My friend Ben Jones was the show runner that season. And he led a very free flowing creative room. Lena Waite's vision was that we all had our own episodes focused on our own stories. A lot of freedom and a lot of input. The ability to shape the thing that you wanted to do. Very chill room and I made some amazing friends. Very cool to be shaping something for the culture.
I think this show is magical and I think
it'll show you that when you watch it.
MUSA
So now you get to shape the culture with your new series Run The World. How did it get to Starz? What's that been like?
LEIGH
This has been such a tremendous experience. Starz bought the show in 2019. Initially, we would of been up last year but Covid happened. It's been such a labor of love. There has been continued genuine excitement from everyone involved. It's cool to be working on something that everyone wants to be working on. Our cast is absolutely phenomenal. They are so pumped to be a part of it. When we got to New York we filmed last fall during Covid for three months. Our crew was incredible. They were so diligent and so safe. We were one of the only shows in the city that didn't go down for Covid. That New York hustle and work ethic. The white boys would pull me aside and say, "We really like this show. We would watch it." ( laughs) So it's been this magical rolling team-building thing. Where at different stages of it another gifted talented group of people come on board. Sharing their gifts and experiences. I think this show is magical and I think it'll show you that when you watch it.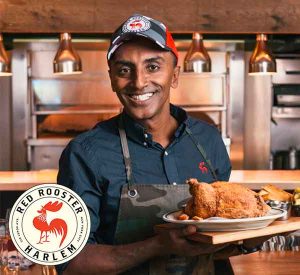 MUSA
As a Harlemite what might we expect from a series set in our historic neighborhood?
LEIGH
I think Harlemites will be super excited to see Harlem shown as it is. When you live in Harlem there's so much filming. A lot of time it's playing Harlem for something else or it's playing Harlem 1963. All this stuff that's happening in the neighborhood yet you don't feel the actual neighborhood. Harlemites will be thrilled to see Harlem as it is. We are in a restaurant because we are supposed be in that restaurant on that corner. Having drinks and being in those spaces as we are. It's Barawine, it's The Shrine, it's Yatenga, it's walking down 125th street, it's Red Rooster. The actual vibes of what it feels like to be a Harlemite. Having coffee in Caffe Latte having someone walk down the street and have that conversation. Real authentic. I think we did well to bring what it feels like to live and be a responsible part of that space. I think Harlemites will recognize and feel that.
MUSA
I like that you use all Black designers? What made you decide to do that?
LEIGH
It wasn't even a decision. It was imperative. The time and space that we're living in. For me these Black women reflect not only beauty and high fashion but a certain type of intention in how they move and who their beings are. Having an awareness of who the hot new Black designers are but putting your dollars behind Black businesses. And supporting Black brands and using your influence to uplift Black brands. Is very much a part of who I am and who these characters are. They think like of people who live in Harlem and in New York City that bump shoulders with the merging designers. We met with Patricia Fields and Tracy Cox and discussed that right out the gate. Like we can do the high end of fashion but I don't think the high is only Chanel. Who's to say that that is high fashion and LaQuan Smith is not. We are going to make sure all of these designers are represented. Reflective of how Black women buy their wardrobe. I may have on pants from the African Market on 116th street with a Gucci blazer and a stiletto. That's how we mix it up. Let's stay true and authentic to the Black conscious modern woman of today.
MUSA
What advice would you give aspiring tv show writers?
LEIGH
Lean into your specific unique voice. Hollywood is about comparing things to something else. "Well what is is like?" "Is it a Black Sex in the City?" (Laughs) You get so much of that language. But really what everyone is looking for is something fresh. There are no new ideas under the sun. There is only your perspective and your unique voice. Lean into what makes your characters different and fresh. People that we haven't seen or people with a different philosophy we haven't heard. That's what breaks through. There a billion writers with a billion stories but you are the only person that is you. As long as you trust that and lean into that and there's nothing stopping you from lifting your voice except for yourself. Trust that you're the only person that can tell your story the way you want to tell it.
MUSA
What advice would you give a young Minority owned restaurant owner getting started in this new post Covid world?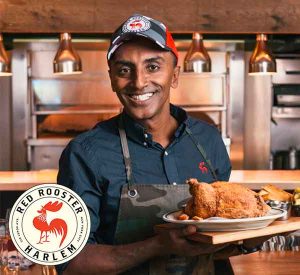 LA TEAM:
Talent: Leigh Davenport @leighdav
Photographer: @reeseshermanphotography
Hair: @daricomagic
Makeup: @chaddbell_beauty
Stylist: Tatia Calhoun @bsoulfultatiBurgundy Sequence dress by @Giannibiniofficial
Shoes : @Jimmychoo
Jewelry necklace :Leah
Ring, earrings and bracelets by @Gucci
2. Black and pink jacket by:
@Zara
Black jeans by @TopShop
Platinum ring and bracelet earrings by @Mimisojewels
Gold ring :Leah
3: Black and White print top by
:ic byConnie K
Jeans :t
Shoes By :Sky
Necklaces  by :Tatia for ButterHaus
4. Multi color top:  Ic by conne k
Black jeans by @Vincecamuto
Earrings by : @JessicaSimpson
Bracelet vintage:by Tatia for ButterHaus
Ring : Leah
NY TEAM:
Founder & Editor In Chief:
Musa Jackson @iammusajackson
Creative Director: Paul Morejon
@Paulmorejon
Get the AMBASSADOR Newsletter
and receive Special Offers delivered to your inbox.