Please join AMBASSADOR DIGITAL MAGAZINE Editor In Chief Musa Jackson interviews his dear friend the legendary fashion designer EPPERSON. The humble brilliant Harlem born and raised fashion designer career has been getting raves for decades but yet he remains relatively unknown to the masses. His timeless unique whimsical avant-garde designs shot by some our great photographers worn by the likes of Alicia Keys, Venus Williams, Patti Labelle and Erykah Badu.
Task
His work has appeared in the Museum of the City of New York " Black Style Now" Exhibit, and collaborated with the legendary Alvin Ailey Dance Company and revered Juliard Dance Ensemble. He has been a reality star as a contestant on Project Runway and after almost 40 years in the business the recent winner of Fashion Group International Rising Star Award. Ambassador Digital Magazine finds out how this fashion legend keeps rising.
MUSA
You were born and raised in Harlem. What was it like as a kid growing up there in the '60s and '70s?
EPPERSON
Growing up in Harlem was really amazing. There was a freedom that the kids today could never comprehend. I grew up in the projects, so every family, every apartment was an extension of your apartment. You were in and out of each other's apartments. There was no need for sleepovers because you were with your friends all day. The playground was sacred it was for everyone. Everybody played the same outdoor free fun games. Red Roover, Hot Peas and Butter, Scalesy, fire hydrant. All of what used to be.
MUSA
As a kid were you always into fashion?
EPPERSON
As a kid when I was about eleven or twelve I used to help my Mom get ready to go out. She went parties at the Savoy Manor in the Bronx. And we would go shopping at Alexander's and I'd help her pick our her outfits. I'd help her fix her hair. She wore a big Afro puff, her own hair ( laughs). So I was always into fashion. I had a quirky style, I wore plaid a lot. We'd wear the mustang jeans and go to Delancey Street for the latest fashions. My brothers would go to car shows at Colosseum and put pictures of cars on the wall. I would put pictures of Ebony Fashion Fair on my walls. My mom passed away in 1974 and we moved to Queens which is where I went to High School. I joined this fashion design class because of this pretty girl named Rhonda Fountain. She and I didn't work out but the fashion design did. I started getting high marks. My teacher was supportive and I really enjoyed it. I could be creative and be myself. That was the same year Mahogany starring Diana Ross came out. Which is still my favorite movie. That inspired me to design all the outfits for a school fashion show. It kind of took off from there.
Growing up in Harlem was really amazing. There was a freedom that the kids today could never comprehend.
"God blessed me with this ability to make these clothes and if you purchased from me you're being blessed"

-Epperson
MUSA
When did you start professionally as a fashion designer?
EPPERSON
That happened right out of High School. My sister Gail and I moved out my brothers house to live with this family in Queens. I was dating the sister and she was dating the brother. We became like a family. We even stopped dating. And there parents happened to be designers. We used to do the Belmont and Aqueduct racetrack flea market. We would make clothes and sell them there on the weekends. They had a factory in their basement. They had sewing machines and everything so I started making clothes and making money from it. I would actually sell them to stores.
MUSA
So how was it in the '80s for young Black designers to actually sell to the stores?
EPPERSON
I was basically self taught. So it wasn't like I knew any better. And when I say stores I mean little boutiques and Mom and Pop shops. That's what the world was like back then for new designers. They saw my work and trusted me. They saw it was a little different. So I didn't really look at it like it was difficult because it wasn't at all. I was so naive that if someone said no the next door was going to open. God blessed me with this ability to make these clothes and if you purchased from me you're being blessed. And if you don't want to be blessed you missed that blessing. So that's really how I moved.
MUSA
You've had your own boutiques in Soho and Brooklyn. How is that navigating a brick and mortar as opposed to having your clothes in department stores?
EPPERSON
Before the brick and mortars I had studios in the garment district and I was building clients the whole time. Working with celebrities, stylists and models. It was a freedom but it was also Omigod. When you sell to the stores you get paid or you're on consignment. But when you have your own shop you have to sell this dress in order for the rent to get paid. That was difficult because I did it all on my own. I didn't have backers. Ideally it would be great to have backing and I could create freely. As opposed to this garment is selling so let keep making this so I can pay the bills.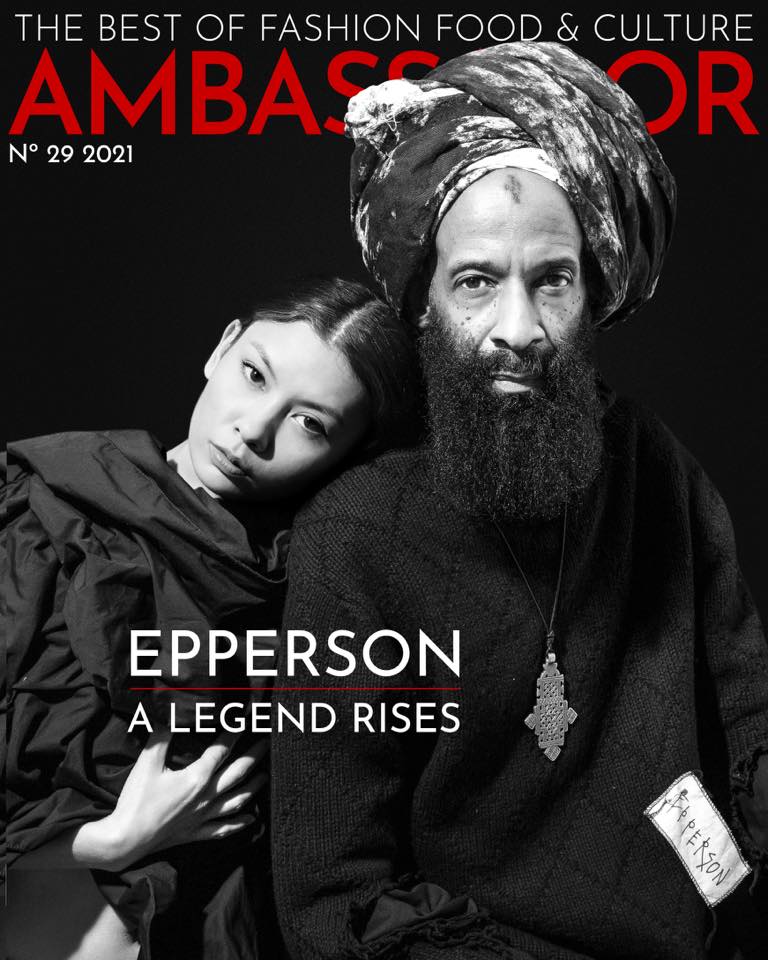 EPPERSON (@eppersonn)| Photographer: Marc Baptiste (@marcbaptiste007)<br /> Model: Alexandra Bendit / Agency MMG All clothes: Epperson @eppersonstudio
My relationship with Erykah Badu blossomed instantly.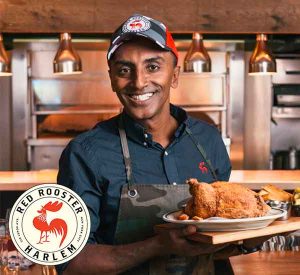 MUSA
You and Erykah Badu worked together at the beginning of her career. What was that like?
EPPERSON
Harriette Cole, was a major stylist, creative director at the time. She introduced me to Erykah who was her client. I went to one of her recording sessions. I was there sketching when I realized her style was my style I could just bring her pieces. Our relationship blossomed instantly. There were times I would speak to her on the phone and she say a color and Id have the color. We would feed off each other. When she won her Grammy and walked out on stage with the bald head. I made that outfit in one night. She received it California the next morning. I said, "Erykah I could of flown here and dressed for the amount of money it cost for this dress to get to you." Then Joan Rivers voted her the best dressed.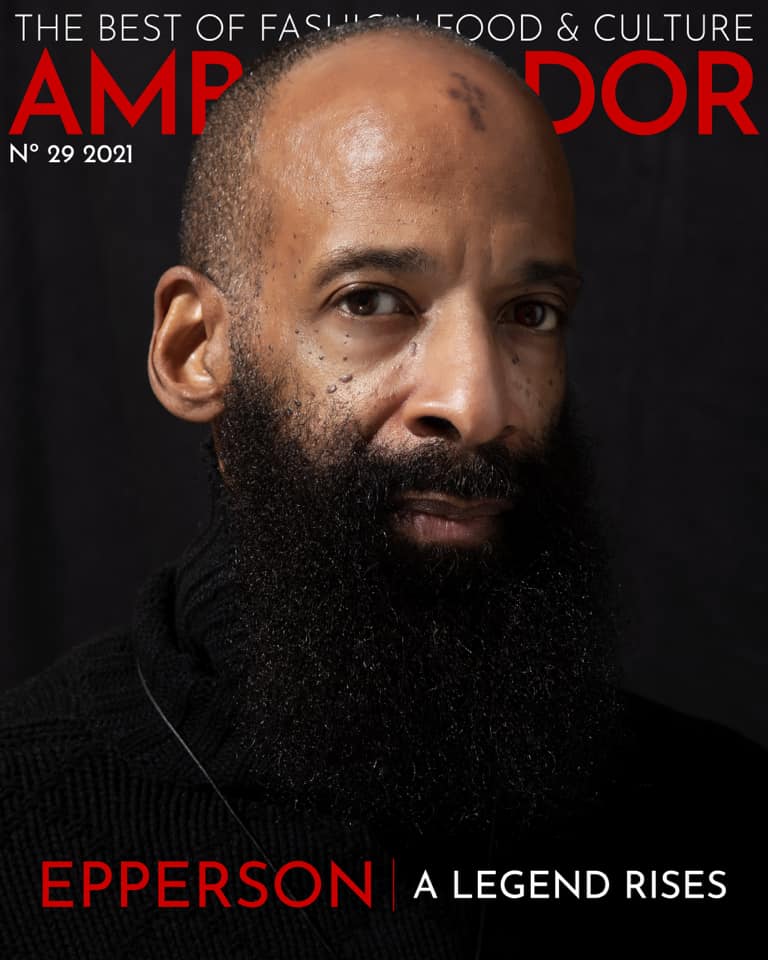 EPPERSON (@eppersonn)| Photographer: Marc Baptiste (@marcbaptiste007)<br /> Model: Alexandra Bendit / Agency MMG All clothes: Epperson @eppersonstudio
MUSA
So how were you selected for Project Runway?
EPPERSON
I had my clothes in an exhibit in East Harlem at the Museum of the City of New York called Black Style Now. I was organized by Puffy. The curator told me Tim Gunn loved my clothing. I had no idea who that was because I didn't watch the show. But he pointed out my white wedding dress. But time went on. About a year after that the producers of the show found me on My Space. I thought it was joke. But they got my information and sent me literature on it and a contract. During that time I was in one of those places as to what I was doing. It was not working. I wasn't feeling good about myself. But it was my wife Lisha who said, "What do I have to loose? It could turn into something." I had the attitude like whatever I'll do it. Meanwhile seventeen thousand people auditioned for it. And they found me and choose me. And then they wanted me to cry on the show. Which I did wind up doing because I missed my family. I ended up loosing. But I wanted to leave.
MUSA
And now after over 35 years in the business being named the Rising Star Award. A well known veteran. How does that feel at this stage of your career?
CAIN
This is going to sound horrible but the most difficult part was actually pre- pandemic. Pre- pandemic was very challenging. I had a lot of things to do and a lot of hats to wear. And I wasn't getting the type of time I wanted with my kids. The pandemic made us all stop for a moment and breathe, and reevaluate things. To look at ourselves, to look at what we are doing. It gave me a different perspective. The kids are going to be small for only a short period of time. Enjoy them as much as you possibly can now. It just recalibrated what I knew was important. I didn't have children until I was older because I wanted to be able to clothe, educate and feed them. And it was important for me to have as much time with them. I didn't want to have children until I had a certain level of success that would allow me to have more time with them. But I do know the more success you have the less time you get. It has been very fortuitous, and do know with all the problems this pandemic brought it has also allowed us to reset. If you can take anything good away from the pandemic that would be it.
MUSA
You are also the co-founder of Rhubarb, an award winning advertising agency the specializes in campaigns for movies and television. How did that come about? And what are some of the campaigns?
EPPERSON
To be honest. So many years ago I felt I needed validation. My goal was to be this by that date. But I'm 61 years old now. Maybe if I was 30 years old I'd be doing cartwheels. It's nice that they've recognized me. It's a recognizing award. Fashion designer Anna Sui presented the award. Rick Owens is one of the judges. Ralph Rucci said to a friend Epperson is such a genius. I didn't even think he knew me. I'm thinking no one knows me. I mean my clients know me, I'm here I'm there. But but that recognition is really interesting. Who knows what can happen at this point. Every step means something. So this is just another step.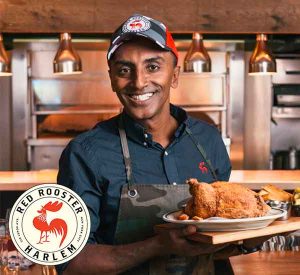 MUSA
What advice might you give to a young kid growing up in Harlem with a dream of being a designer?
EPPERSON
When I received the award I was totally surprised by it. My word is perseverance. Be you, do you, trust you. I've gotten this far by trusting myself. Not asking what you think. It's whatever you think. Everyone is going to think something different. I think I've come this far because I've listened to myself. My inner self thats God speaking to me. Stay true to you. Don't get sidetracked. Step by step there are doors there to be opened. We've been given permission to walk through them. Those doors are not as heavy as they were. Don't give up.
Working with celebrities, stylists and models. It was a freedom but it was also Omigod.
Founder & Editor In Chief: Musa Jackson @iammusajackson Creative director: Paul Morejon Paulmorejon Talent: EPPERSON @eppersonn Photographer: Marc Baptiste @marcbaptiste007 Model: Alexandra Bendit / Agency MMG All clothes: Epperson @eppersonstudio